Where does your business want to be seen? Well if your in a technology business that is B2B, I guess on business technology news sites, which are a great source of information .
Below is a list of what we think are among the most influential and must read tech publications that break news, cover business insights, articles, reviews, latest developments and products, and boast circulations (noted below) in their millions.
1. TechRadar Pro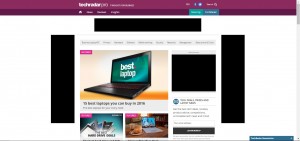 Website: http://www.techradar.com/pro
One of the fastest growing global technology websites, TechRadar Pro delivers content focused on business IT insights, best practices and solutions for influential business leaders at the key phases in their buying cycle. Circulation: 10 million.
2. The Register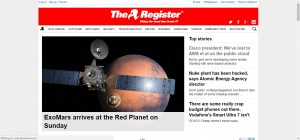 Website: http://www.theregister.co.uk/
The Register is a leading global online tech publication, with more than nine million monthly unique browsers worldwide. The core audiences are the UK and US, accounting for more than 6 million. The bulk of the remaining readership are located in Canada, Australia and northern Europe.
3. The Inquirer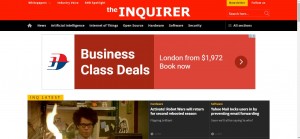 Website: http://www.theinquirer.net/
The Inquirer is one of the largest traffic IT sites in the world, generating millions of page impressions. Written in an uncompromising, irreverent and straight-talking style, the Inquirer is one of the most popular sources of IT information on the net. Using first party data from across the Incisive Enterprise IT sites, the Inquirer can provide focused digital advertising inventory across a number of content areas, including Cloud, Big Data, Security, IT Leadership and DataCentre. The Inquirer's online debate series delivers thought leadership and large-scale audience engagement for sponsors. Circulation: 1,200,000.
4. IT Pro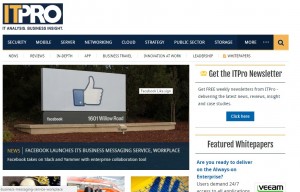 Website:  http://www.itpro.co.uk/
IT Pro provides real-world insight and advice to guide business and technology decision makers through the maze of information and communication technology investment. IT Pro is fast becoming the essential place for all IT coverage in the UK, offering breaking IT news, along with analysis and comment, interviews, reviews, opinion, multimedia content and more. Circulation: 1,400,000.
5. Computer Weekly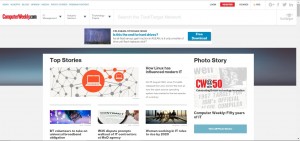 Website: http://www.computerweekly.com/
Computer Weekly stands out from the many technology news websites on offer through its unique history, extensive reader community and in-depth coverage of the issues, challenges and trends facing today's IT leaders. Computer Weekly provides the latest news and analysis through its website and 200,000-subscriber weekly digital magazine, as well as award-winning and exclusive premium content; a dedicated monthly magazine for European IT leaders; independent research studies; and the CW500 Club's exclusive networking events for senior IT managers. From being the world's first weekly IT newspaper in 1966, to today's multi-platform digital publication, Computer Weekly continues to reach millions of IT decision-makers in the UK, Europe and the rest of the world. Circulation: 1 million.
6. Computing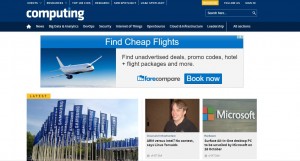 Website: http://www.computing.co.uk/
With a laser focus on how technology is shaping the agenda of the UK's biggest businesses, and more interviews with CIOs, CTOs and CDOs than any competitor, Computing claims to be the number one media resource for the UK's board level IT leaders, in print, online, and in face to face events. Computing educates and serves its high-end community with incisive analysis of IT trends, analyst-grade, research-driven content, and a market leading conference programme. Computing provides IT vendors with opportunities to start conversations with potential customers through online lead generation, face to face and online events, and build brand awareness through advertising. Circulation: 223,000.
7. ComputerWorldUK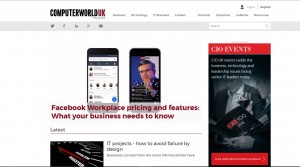 Website: http://www.computerworlduk.com/
Computerworld UK, the 'Voice of Business Technology', is the largest and most trusted source for the information needs of enterprise IT management here in the UK. The publication's aim is to assist IT professionals to navigate an increasingly cluttered information landscape by understanding the real issues…"Our commitment is to cover local and global news from the IT professional's perspective, with an analytical view of how developments affect the daily operations of their organisation's enterprise technology". Circulation: 204,311.
8. ZDNETUK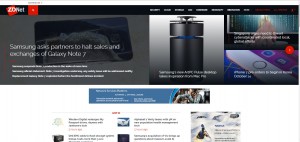 Website: http://www.zdnet.com/
ZDNet brings together the reach of global and the depth of local, delivering 24/7 news coverage and analysis on the trends, technologies and opportunities that matter to IT professionals and decision makers.
Whatever your role in the IT buying cycle, ZDNet provides support — from investigating options to optimizing a solution. Whether you want to follow hot topics or emerging trends, or keep up to date with the latest news and events, ZDNet is the destination for professionals seeking to research technology-related issues, and solve business technology problems. Circulation: 25,600,000.
9. Techworld UK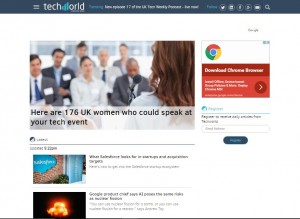 Website: http://www.techworld.com/
Techworld is focused on digital disruption – the space where innovation and entrepreneurship meet business tech. It offers the latest news and views on innovation, startups, developers, disruptive technology and their impact on UK business and society.
Techworld delivers a unique blend of analysis, features and expert advice on topics including mobile, apps, AI, drones, cloud, cyber security, big data, wearable tech, social media, user experience, e-commerce and IT startups. It highlights the impact of 3rd platform technologies on a set of industries including financial services, retail, travel and leisure, public sector, manufacturing, automotive and creative and digital. Circulation: 332,436.
10. V3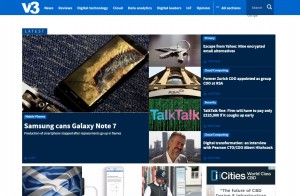 Website: http://www.v3.co.uk/
v3 is the UK's leading digital technology media brand, reaching millions of business technology buyers. v3 provides its digital-savvy audience with up-to-the-minute enterprise IT news, in depth business features, and hard hitting opinions and analysis for the workplace, alongside the high end consumer technology that they love. Read by a tech savvy audience that spans both line of business managers and IT professionals, v3 generates impressive traffic and digital advertising opportunities and its market leading multi-sponsor online event programme provides vendors with guaranteed volume lead generation. Circulation: 600,000. NB: RIP V3, as of April 2019, it's part of Computing.
Update 3 May 2019: New Financial Times backed media group called Sifted (sifted.eu) is worthy of a mention. It covers startups and tech across Europe, from Stockholm to Sarajevo. But they're not chasing after the latest funding announcements or product releases; plenty of other sites have got that covered.
They want to tell the untold (and we think, far more fascinating and useful) stories — big startup trends, compelling company profiles and the everyday lessons that come from growing a business and messing up along the way. Sign up to the newsletter here: bit.ly/2G60sKC
Oh and one day, we're looking for our own regional technology newssite TechSparx to be on similar lists. If you want to see your company or product name in technology publications, please get in touch and we'll see how we can help you.