Advanced Web Ranking (AWR)
The core of Caphyon's AWR seo software is ranking data, it offers a wide range of options for tracking ranking of keywords against various search engines. In addition to the core ranking element, AWR contains keyword research and more general SEO analysis tools.
Headline features
Rank checking on hundreds of search engines
Keyword management – keywords can be assigned a category and colour for grouping as well as a priority
Keyword research – pulls keyword suggestions and search volumes from multiple sources
Link profiles and Analytics integration
On page analysis and comparison of pages
Reporting – a wide range of different reports, showing data by time, keyword or site
Scheduler – pulling rank data and generating reports can be automated (including email/ftp reports)
Multi-platform – supports Mac, Windows, Linux for desktop version and server
Installation & getting started
I tried both the Mac and Windows versions, but spent most time on the Mac version. Both were very easy to install and get working. AWR in Java and the Java look and feel makes for a common user experience across both versions I tried.
The app is updated regularly, both the core product and updates for the search engines – updates are straightforward. When I was trialling AWR, an update to Google Adwords caused the feature that fetches search volumes to fail – the AWR support guys were already on the case fixing it when I contacted them and the next time the app updated its search engine data, the fix was applied automatically.
Keyword management & keyword research
Setting up a project and adding keywords is easy enough – there are lots of ways of getting your keywords into a project: you can type them in, pull suggestions from the keyword research tool or simply import a list.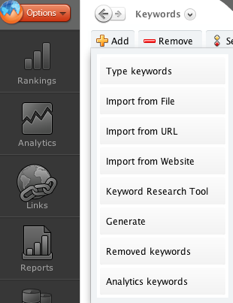 Once you've got your keywords in, it is as well to group them in categories – this makes reporting easier because you can segment the reports by category too. The keyword research tool can fetch data (and search volumes where available) from a variety of sources (see image).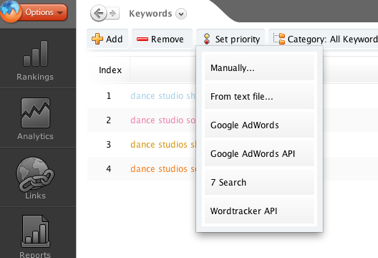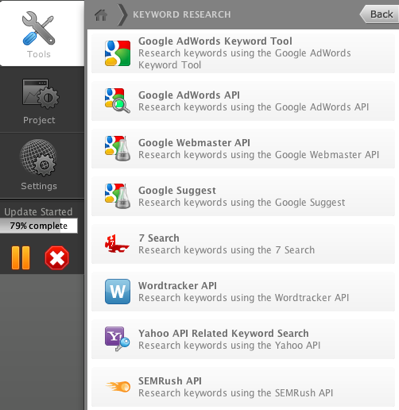 Rank checking
AWR offers a long list of search engines, it includes the big players: Google, Bing, Baidu and Yandex as well as a host of others. While you can use AWR's local search engines (e.g. Google UK), it is worth investing in local proxies for the territories you're targeting – this ensures that you do get 'real' local results for the country you're searching in as well as helping with throughput (it can take a long time to run lots of searches and you run the risk of a ban from Google if you use your own machine). To give you a feel for how long it takes to get rankings, ranking ten keywords on Bing, Alexa and Google took about twelve minutes via a direct connection – a proxy network is almost certainly essential for volume work unless you're using the scheduler to run queries overnight. You can see the rankings in many different ways and it is very easy to track your site's rankings against competitors. Top sites shows you the top sites ranking for a particular keyword (see image).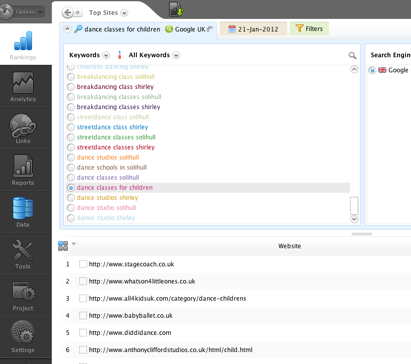 Link profile and Analytics
AWR pulls link data from the Linkscape API (which powers OpenSiteExplorer – OSE), if you've used OSE you'll know you it gives you comprehensive link and domain analysis data. OSE is a paid-for service and AWR comes with some free OSE API credits so you can analyse up to 2,000 links straight away, you can purchase extra credits for a few dollars from the AWR site.
Optimisation analysis
AWR gives you a summary of ranking metrics for a page, things like title tag length, keyword usage in title and so on. While the analysis isn't anything ground breaking, what's nice is the way that you can compare the metrics for two different pages side-by-side.
Reporting
Reporting in AWR is certainly comprehensive, you can also automate generation of reports so that they're emailed or uploaded via FTP regularly. Reports range from a full summary that includes data from analytics and link metrics to historical rankings and all of these can be customised.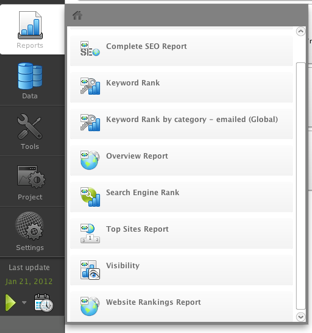 Summary
Overall, AWR is a really useful and comprehensive product – certainly one I think I'll be keeping in my SEO toolkit!
Advanced Link Manager
Another product from Caphyon, ALM is a link profile-monitoring and link building tool. ALM provides an environment in which you can track which sites are linking to your site (and linking to your competitors). ALM also gives you the ability to run a link building campaign – a nice aspect of this is that you can use competitor link profile information (gathered for link profiling) directly within the linkbuilding part of the app. Like any tool that uses search to find linking sites, ALM has suffered since the demise of Yahoo SiteExplorer, however if you have an SEOMoz API key you can use that to get Linkscape data – which is very handy indeed.

Features
Key features that I found useful in ALM include:
Link profile monitoring – tracking and showing historical link data for multiple domains
Built-in link building management – includes sending email and viewing email history for link requests from within ALM
Site crawler – does what it says on the tin!
Analysis – summarises key metrics for the pages/domains selected
Reporting – email/FTP reports (automatically if you use the scheduler)
Scheduler – update your projects automatically
ALM also offers a host of other features, here are a few:
Google Maps results importer – fetches ten-pack search results from Google maps
Generate link pages automatically – useful perhaps if you do a lot of reciprocal linking
Built-in query tools for adding potential link sources to your project
Multiple user profiles
Installation & getting started
ALM is just as easy to install as AWR and, like its sibling is written in Java so works on Mac, Windows and Linux equally well. I used the Mac version for this review.
Getting started is straightforward, simply specify the site's URL and you're away.
One thing to note here is that ALM only adds the home page of the site by default (and consequently only fetches link metrics for that page) – you need to add any other URLs that you want to monitor after the initial setup step. You can add URLs either by typing them in, by importing from a file or by asking ALM to run searches on your chosen search engine (in effect, it runs site:yoursite.com type queries to fetch the indexed URLs).
A note about the UI: the UI can be somewhat confusing, there are so many functions and options that (even with the comprehensive user guide), things can get a bit overwhelming. A good place to look at is the bottom left of the screen – this shows you 'quick actions'. The quick actions is a handy list of the most common things you'll want to do in each part of ALM.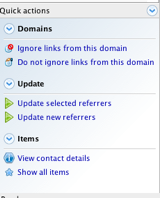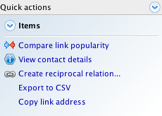 There are however, some idiosyncrasies in the UI, for example, while adding URLs to the project via the project settings is fine, I was unable to do it via the web crawler. Further, the export file from the web crawler wasn't directly compatible with the 'import urls from file' feature of the project settings screen – I had to remove extra columns from the file leaving just the URLs.)
Link profile monitoring
Once ALM has gathered your links, there are many filters that you can apply to get a sense of your link profile, these include:
Followed/no-followed links
Text/image links
Links added/removed by other sites since the last update, etc.
You can also filter by domain and even regular expressions to drill down to the specific types of link you're looking for; grouping by IP and summaries of unique C-blocks make this a very useful feature.
A significant issue that I found with ALM was its ability to fetch links from search engines – you can import links from a file (and that's a great feature) – but it seems to have trouble finding new links itself. Robert from the support team was very helpful indeed in helping me understand this issue – without a reliable source of referrers, ALM is unable to find new linking sites easily (the loss of Yahoo SiteExplorer had a big impact here). As mentioned above, you can use your SEOMoz API key to fetch links, and that seems to work well. (As a side note, the support from Caphyon for both AWR and ALM has been very good indeed – responsive and helpful!)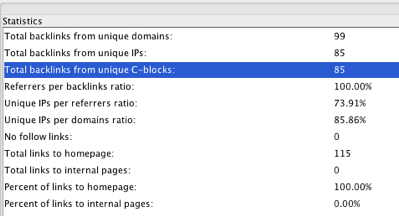 Link-building management
ALM shows you which domains don't link to your sites and can fetch contact information for those sites.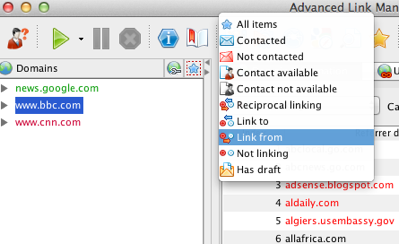 That contact information is fed directly into the email tool within ALM. If you then engage in an email conversation relating to a site, ALM shows you a history of the exchanges and you can set a status against each site to make managing your outreach easier.
Because ALM maintains a history of your link data, it is easy to track how your linkbuilding efforts are progressing and to compare your progress with what your competitors are doing.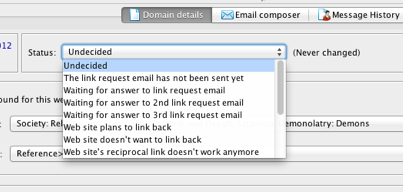 Page and domain analysis
ALM will analyse pages, giving you data on keyword density, keyword prominence and usage in title tags etc. It can also get Google toolbar PageRank and similar metrics for you. This is quite nice if you want a quick overview of the relative strengths of some pages. ALM also has a broken link checker which helps you spot broken links on your site.
Reporting
Like AWR, there are a wide range of reports in ALM. These reports can be created manually or generated automatically by the scheduler. Here's a list of the reports: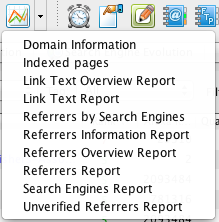 Most of the reports are very useful, I particularly liked Domain Information and Link Text Overview. The Domain Information reports data about the domains in your list of referring sites, it shows PageRank, Alexa Rank, IP address and domain age. The Link Text Overview report lists the anchor text of links for each site in your project, highlighting how many new links have been found (or how many lost) with each specific anchor text.
Summary
Unfortunately, ALM is starting to look long in the tooth, there have been no major updates to the core app for over a year and the UI can be confusing. Overall, I think ALM is still a good product, but one that could do with a refresh (note, ALM still receives regular search engine updates from Caphyon so the 'working parts' of the app are kept up to date).
Discloure: This review was of free copies of the enterprise versions of AWM and ALM.