Capturing media and influencer attention for Kodak PIXPRO's new range of cameras.
By highlighting the USPs of Kodak PIXPRO's latest camera range and managing an ongoing media trial and review program for the compact yet powerful digital and action cameras, supplemented by regular product blasts, Vitis PR smashed its 2018 targets in the promotion of the Kodak PIXPRO 4KVR360, Astro Zoom (AZ) and Friendly Zoom (FZ) camera range –and exceeded its SP360 camera coverage success in 2017.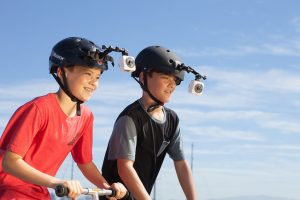 Background
JK Imaging Ltd. is the worldwide licensee for Kodak PIXPROdigital cameras and devices. Through a Global Licensing agreement with Kodak, JK Imaging manufactures and sells Kodak PIXPRObranded digital imaging products such as the Astro Zoom (AZ), Friendly Zoom (FZ) and 360-degree action cameras.
Challenges
Thanks to the inclusion, and use, of cameras on smartphones, the standalone camera market was being challenged and losing market share, so had to innovate to remain relevant to tech-loving consumers. It did this by developing the ultimate travel and outdoor adventure accessory – the action camera. With a large number and variety of action camera types being launched by a multitude of vendors in close succession though, the client needed to differentiate its offerings to stand out from competitors in a market that would fast become overcrowded.
JK Imaging wanted to leverage the Kodak brand name and reputation to promote its PIXPRO range, including the latest ultra-zoom digital cameras (the AZ), compact FZ and its 360-degree action cameras, including its next-generation 360-degree single body VR camera, the 4KVR360, which was launched at CES 2017.
After the successful promotion of the client's SP360 camera range, Vitis PR'smain goal for this project was to develop and/or strengthen relations with key editors/influencers in the tech, gadget, photography, and lifestyle media to boost interest in and coverage of its entire camera range. There was also a need for the Vitis team to support the client's product launches, as and when they occurred throughout the year, and to manage event attendance and secure media briefings at various industry and vertical events, including The Photography Show, Photokina, CES, and IFA.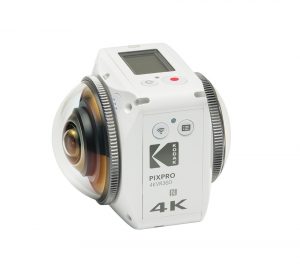 A personal goal for Vitis PR's team was to continue its successful year from 2017 and achieve the same – if not better - high-quality coverage and interest from Tier 1 media targets and influencers for the client's 4KVR360, AZ and FZ ranges than it had secured the year before for Kodak PIXPRO's SP360 range.
Solution
Vitis provided a full programme of PR support including media and event relations, advertising, SEO support, and influencer relations.
The team had reached its target of 24 reviews fully-focused on the PIXPRO camera for the client in 2017. So, to beat its 2 reviews per month and achieve its target of 28 reviews for 2018, Vitis PRcontactedall of the media that it had secured reviews and trials of the SP360 range within 2017. By alerting the journalists to the upcoming launch of the 4KVR360 camera, the AZ camera range and the FZs, Vitis PR used the heads ups to see if those same media might be interested in trying any of the new cameras out for themselves over 2018 and secured immediate interest easily with 8 Tier 1 journalists.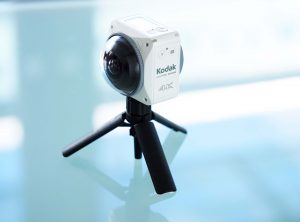 The cameras were also mentioned in 360° camera round ups throughout the year.
Influencer relations
Key opinion leaders were also identified who could influence potential buyers to promote the new camera range to their website visitors and social media followers. Through their influencer partnerships, KOLs such as Paul Steele aka the BaldHiker would help Vitis PR achieve social media promotion of the cameras and retweets/shares to assist in reaching a wider circle.
By hashtagging and linking to the client's social media sites, the influencers' social media promotions increased traffic for Kodak PIXPRO's accounts, where visitors were informed of other cameras that the client also wanted to promote.
Event support
While supporting the client at photography and camera-specific events, like Photokina and The Photography Show, Vitis PR also looked for relevant vertical events to promote the new camera range's features. For example, an opportunity was sourced to provide trial units to a VR-specific event that had workshops and Vitis PR used that event to highlight the VR capabilities of the 4KVR360 camera range to a VR-specific audience and media attendees. Kodak PIXPRO's attendance and participation in vertical media gave Vitis PR the chance to gain mentions and inclusion in event write ups from media that had not written about the client before.
Vitis PR also worked closely with the team behind a series of 360° camera workshops.
Inclusion in event round ups was secured too, with Kodak PIXPRO's demonstrations and event exhibition products being noted by targeted media such as Trusted Reviews and HardwareZone in their Photokina 2018 features.
Product blasts
Vitis PR created regular product blasts and promotional emails to send out to all media contacts highlighting the new camera range's USPs and inviting high circulation, "quick turnaround" media to consider a trial for writing a review or to include the cameras in any relevant round ups that they might be writing.
Using seasonal hooks such as summer holidays and Christmas for product blasts and promotions provided Vitis PR with some easily secured coverage and mentions. The team had created a summer product blast that highlighted the Kodak PIXPRO camera range as the ideal travel companion thanks to each camera is lightweight and compact enough for a handbag or pocket, yet powerful enough to capture high-quality images for sharing easily and quickly via social media, while on the go.
The ski season product blast, which Vitis PR sent out during Q1 2018, helped the team secure interest with Luxury Lifestyle Magazine in an article detailing how to get the best ski action shots using Kodak PIXPRO's cameras.
While alerting media and influencers to the Kodak PIXPRO AZ901 launch at CES 2018, Vitis PRused their media liaison for that event to secure interest in trials for review with media including Photography Blog, Mighty Gadget, TechNuovo, ePhotozine andThe Red Ferret and influencers such as London-based urban photographer, Nicholas Goodden, who Vitis PR also secured a competition with, offering his readers an AZ901 prize giveaway following his review of that same camera going live.
Additional activity
Vitis PR also liaised with two publications to place promotional advertising for a summer sale; we provided SEO feedback on the site to encourage sales; ran competitions on target sites, and liaised with a book publisher to gain mentions of the camera in a 360° video handbook.
Results
JK Imaging gained a comprehensive programme to target professional photographers, amateurs, gadget fans, travellers, and outdoor activity lovers.
Over 2018, Vitis PR secured 28 product reviews and, of those, 10 were standalone reviews of the 4KVR360 in media such as Trusted Reviews, Camera Jabber, The British Photography Industry, Photography Blog, TechRadar, The Gadget Head and PhotoBite, while 7 were standalone reviews of the AZ901 by Fascinating Tech, Mighty Gadget, TechNuovo and ePhotozine.
Vitis PR's product blasts and promotional emails highlighting the right cameras for the different seasons helped secure Kodak PIXPRO cameras being included in summer round ups with TechRadar on the Best 360-degree action cameras for travel holidays and Christmas gift guides, such as Sunday Woman, Digital Camera World, The Next Web,  a Luxury Travel Blog, Holiday Living, Camera Jabber, ePhotozine, TechRadar, The Voice, and DadvWorld.
Competitions were also secured with PhotoBitegiving one lucky reader the chance to win an AZ901, Practical Photography for a Kodak PIXPRO S-1 camera prize and AZ and FZ camera package giveaways with Go Ape and Look Magazine over the summer.