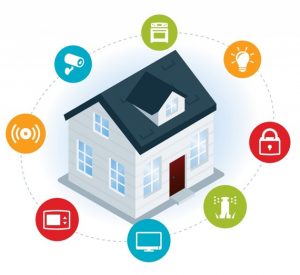 We've come a long way since the first smart home device. It's believed to be the ECHO IV and the Kitchen Computer, built in 1966 by Jim Sutherland. Although the machine weighed approximately 800 lbs and filled four large (6' x 2' x 6') cabinets, it could compute shopping lists, control the home's temperature and turn appliances on and off.
Now, household penetration of smart devices is 19.7% in 2018 and is expected to hit 39.0% by 2022. In the Control and Connectivity segment alone, the number of active households is expected to amount to 7.9m by 2022.
We've gathered key predictions for 2019 by looking at what's happening in the industry and from our work with smart home clients.
Emotional AI
Research firm Gartner has gone one step further with its prediction that our "personal devices will know more about an individual's emotional state than his or her family" by 2022, thanks to emotional artificial intelligence becoming more and more sophisticated. The latest Blade Runner film has an AI called JOI which can tell you "everything you want to hear" and show you "everything you want to see" based on your personality and experiences, but that's not due until 2049.
Gartner also believes that cloud AI is taking hold, with 60 percent of personal technology device vendors will using third-party AI cloud services to enhance functionality and services by 2020.
Cloud-based AI technologies are driving compelling user experiences on a variety of connected devices. Cloud offerings from the big tech players, such as Google, Microsoft, Amazon, Tencent, Baidu and IBM, are starting to proliferate due to their attractive cost model, easy-to-use integration and potential to create complex services. A major catalyst for device vendors to use cloud AI services is the increased usage of VPAs and natural-language technologies, while the adoption of VPA-based, screenless devices such as Amazon Echo and Google Home is also on the rise, further increasing usage of cloud AI services.
The robots are coming
The first robot cleaner on the market was introduced by Electrolux in 1996, Dyson followed with the DC06 in 2001. However, it wasn't until the Roomba was introduced by iRobot in 2002, that robotic vacuum cleaners truly start to become a staple in modern home technology.
Although the adoption curve has been relatively flat, the innovation curve is very steep indeed, as this recent video of a dexterous, AI-powered robot hand demonstrates. However, a recent survey of 27,000 people by the European Commission found that perhaps the problem with adoption lies elsewhere - 60 percent of respondents felt that robots should not be used for the care of children, the elderly, and the disabled, even though this is the space that most roboticists are playing in.
The robots will talk
In just a few years, the use of voice systems has evolved from simple voice commands to entire ecosystems of applications and interactions.
We've only begun to predict the ways voice AI will influence interactions between humans and technology in the decades to come. Hardware and software improvements alike are rapidly improving the ability of devices to pick up on and understand human language, allowing devices to get more accurate at predicting human behavior and more flexible in providing ways to get things done. Voice assistants are easier than ever to cooperate with, which speaks to the astonishing rate at which voice AI is finding its place in users' daily lives and habits.
In a survey by Edison Research and NPR, 39% of respondents indicated they're very interested in having smart speaker technology in their televisions and 24% want it in their cars -- two environments that are not conducive to heavy smartphone engagement. AI voice assistants unlock a mode of interaction that can coincide with these environments, creating a new way for organizations and companies to interact with users. An AI voice assistant that persists from the home to the car now opens up a new window of access to consumers who may want to buy a few more items that they forgot to purchase while looking through their kitchen earlier.
While stuck in traffic, a user may see a physical advertisement that they can now act upon. Kia and Hyundai vehicles will include built-in AI assistants with voice capabilities to help answer questions about the weather and manage functions like car temperature and locks on the doors so the driver can remain hands-free.
Evolution of cities
The City of London has recently begun a programme to connect thousands of street lights to a mesh network (where individual lights act as nodes). This means greater ease of operation and that the lights will eventually form part of a network of sensors that can detect factors such as pollution.
Deutsche Telekom is collaborating with United Smart Cities (USC) to address key issues cities face today such as smart street lighting, air quality monitoring or smart parking. Data from the solutions will then be combined to create aggregated smart city applications. A mayor dashboard or citizen app combines individual solutions, for example.
The final and most important stage of a city's journey through digital transformation is citizen involvement. Both partners will work to integrate direct interaction and participation of the citizens in the Smart City. Connectivity and collaboration will become the basis for broader goals like social inclusion, democracy and enterprise.
One Chinese manufacturer in particular is eyeing the smart city space too, in January, the company rolled out a smart cities platform in Kuala Lumpur, connecting 300 traffic lights and 500 traffic cameras with an eye towards easing congestion and building out a larger sensor network.
The protocols propelling us into the future
Then: the first general-purpose communication protocol for electronic devices, X10, was developed in the 1970s, and was used in the first generation of smart home devices, including light switches and appliance controllers, all powered by the 16 channel command console of the X10 products.
Now: wireless home automation protocols include Homematic, Z-Wave, ZigBee, Wi-Fi, Thread, and Bluetooth. Hybrid or fixed technologies include Insteon, UPB, KNX and Powerline. Open standards continue to prove a popular method of future-proofing.
The future: new, more secure versions of the Wi-Fi protocol (WPA3) already exist at a conceptual stage, while Narrowband Internet of Things (NB-IoT) networks begin to rollout. Ultra-fast 5G networks are being tested across the world, due for public rollout around 2020, varying by country. Behind the scenes, SON (Self-Organizing Network) technology is accelerating rollout significantly.
Growth of data aggregation
Then: back in 1997 'big data' made its first debut in a modern context, in a research paper by Michael Cox and David Ellsworth: "Visualization provides an interesting challenge for computer systems: data sets are generally quite large, taxing the capacities of main memory, local disk, and even remote disk. We call this the problem of big data…."
Now: rapidly becoming a fact of everyday life, data aggregation and big data insights are here to stay. Just one example, US life insurance provider John Hancock will now sell only "interactive" policies that collect health data through wearable devices such as a smartwatch. Policyholders can earn discounts and rewards such as gift cards for hitting exercise targets.
The future: by 2020, every person in the world will probably be creating data at a rate of 7 MBs per second, and we'll be turning to machine learning and algorithms to deal with it. For example, Gartner expects that by 2022, at least 40% of new application development projects will have artificial intelligence co-developers on their teams.
Big data is getting bigger too, IDC estimates that IoT will generate 10 percent of the world's data by 2020. A suite of interconnected devices means a profusion of valuable data. Wearable technologies that track behavior, such as average heart rate, amount of time spent exercising and the number of hours of restful sleep are just drops in the bucket of incredible consumer data.
Businesses can better understand the needs of their consumers by tapping into energy usage statistics. They can release firmware and software updates more regularly as they collate massive amounts of data regarding software and hardware failure.
Utilising GPS data, companies can offer location-based services, coupons, and promotions. Companies can become familiar with how their products are used in the real world and wield that information to hone its successful components and solve its issues.
Let us know what you think will be the smart home trends of 2019.