2017's visit to MWC in Barcelona was amazing. For those of you not in the know, MWC is the mobile industry's biggest and best event, with the largest gathering of media, analysts, PR professionals and brands in the world.
The sheer size of MWC 2017 was something that, although I had been warned about repeatedly, I was still sorely unprepared for. More than 2,300 companies participated in halls that spanned 2.5 million square feet of exhibition space throughout eight halls, and the show was attended this year by a record 108,000 visitors – smashing last year's attendance of 101,000. Professionals from 208 countries and territories were present, and the event was covered by approximately 3,500 members of the international media.
The pre- and show presentations
The event ran from Monday 27th February until Thursday 2nd March, but had already begun with several pre-event parties, launches and conferences over the weekend beforehand. I attended the Mobile Sunday event at the Fàbrica Estrella Damm distillery in Barcelona, where start-ups mingled with potential investors. The event saw presentations from Airobotics, a world leader in automated drones for industrial purposes, and AngelHack, the world's largest and most diverse hacker community, driving innovation of tech products through hackathon programs.
The event organisers also had a series of 'fireside chats' with spokespeople such as The New York Times' Mark Scott, Roche's digital health scout, Karolina Korth, Gregor Gimmy from BMW's Startup Garage and  Skyroam's Cory Jones.
Monday's MWC event kick-off saw morning keynote presentations giving a nod to the local football team with the FC Barcelona Chairman talking Digital Economy with AT&T's CEO, amongst others, and Telefonica's CEO one of four talking about Mobile as the Next Element. The afternoon keynotes included a panel discussion focused around Connected Vehicles and how to manage the transition from manually driven cars to autonomous ones. Other presentations focused around digital reinvention and revolution of the cloud, global mobile challenges, the 5G economy, chatbots, IoT and connected living platforms, network analytics, machine learning and the next generation of managed security, bitcoins and permissioned blockchain for smart cities.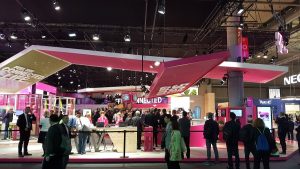 Big names involved in the keynote presentations over the course of the event were CEOs from the mobile brands Nokia and Orange, Vice-President for the Digital Single Market of the European Commission, electric race car company Formula E. Holding, Huawei, Netflix and Tele2, to name just a few.
What were the hot topics?
The hot topics at this year's MWC were 5G and gigabit internet, with Intel, Qualcomm, and Samsung all announcing new mobile device chips that can support gigabit LTE speeds. But the most covered story – by the attending press and those who did not make it to MWC this year – was the 'blast from the past' that Nokia caused by revealing that it was reviving the 3310 (a classic device that was first released back in 2010 before the smartphone revolution). Demonstrated at the event, ahead of its official launch date which is scheduled for the second quarter of 2017, the new revamped Nokia 3310 will be priced at a little over £40 ($49), making it affordable for near enough everyone.
Affordability of 5G for mobile operators was also a major topic at this year's event, as was device security, but the need for reassurance means that device security is an open door for new and existing vendors, security specialists explained, as security within apps, as well as the use of biometrics and voice recognition, were all very present throughout the show.
The best stands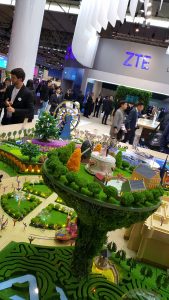 In wandering around the eight halls, there were some truly amazing stands where the companies had obviously put a lot of thought into their demo's. One such brand – and the stand I liked the best – was ZTE's as its demo was a fully functioning train set and windmill in a town setting that visitors could play with using ZTE's MWC-announced budget versions of its Blade V8 Pro phone – the Blade V8 Lite and Mini respectively. ZTE also launched its 'gigabit' phone; the world's first 5G smartphone that's aimed at making 360-degree virtual reality, 4K video, and instant cloud storage possible while you're out and about and on the move, which was again a hot news item for media.
Telefonica too had a really cool, moving stand with a wave of hanging lights that went up and down and made me feel like I was looking at the sea rolling and waves cresting, but on the ceiling. The Deutsche Telekom pink stand was the prettiest and very distinct as most of the other stands were basic black, blue, white or grey coloured.
New mobile phones that were launched
There were a number of new mobile devices launched at MWC 2017 – perhaps not altogether surprising as it is a mobile show. In summary, the new devices launched at MWC this year were Nokia's new 3310, which I've already talked about, alongside its Nokia 5 and 6.
BlackBerry made its comeback with the BlackBerry KEYone – a touch sensitive keyboard Android device it partnered with Canada's TCL Communications, and LG unveiled its long-awaited G6 and announced the X Power2 handset. Aside from its souped-up battery pack though, the X Power2 handset just didn't seem quite as exciting or attractive as the G6, which is the new flagship mobile device for LG comprising as large a display as possible into a compact phone size.
The Huawei P10 and P10 Plus phones were announced the day before MWC began and are due out this month in the UK, but will not be released as yet in the USA. America is going to get the Huawei Watch 2 – a wearable that was on everyone's lips – though, alongside Sony's Xperia Ear earbud, which is another new product to keep an eye on.
Samsung launched a new Galaxy tablet which is aimed at gaming. The flagship tablet, the S8, will be officially launched on 29 March in New York. The Galaxy Book tablet was also launched and that's aimed at replacing laptops altogether.
Motorola's Moto G5 release emphasised the need for longer battery life, which has always been a complaint with mobile devices. The G5 uses Qualcomm Snapdragon processors, with the Snapdragon 430 in its budget model and a Snapdragon 625 in the G5 Plus.
Another brand making best use of Qualcomm Snapdragon's chips was Sony, which launched its Sony Xperia XA1 and XA1 Ultra, a large tablet-esque phone that will probably prove popular with Generation Z as it comes with a 16MP selfie camera. Sony's Xperia XZ Premium was another cool phone that I played with at MWC, and is the first phone we've seen to feature the upcoming Qualcomm Snapdragon 835 chip within it.
Playing with the VR headsets
The Qualcomm Snapdragon 835 processor was also on display at MWC, via a fun VR demo that linked the new Snapdragon processor chip to the upcoming Saban's Power Ranger movie, coming out on 24 March, and gave me a chance to be a Power Ranger flying my favourite Zord and feeling what it's like to be a super-hero.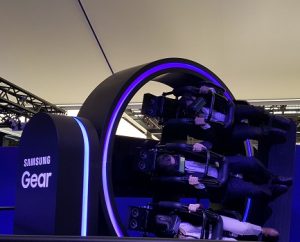 Now VR may have been the showstopper last year, but I tried it for the very first time this year at MWC. My first foray was at the Nokia stand where the OZO VR headset gave me a chance to be a part of a OneDirection music video. Then, I tried out the Qualcomm one using its new flagship Snapdragon VR – detailed above. After being a Power Ranger, I hit the Samsung stand, where the team were demonstrating the new Oculus version of its Gear VR headset with an interactive 360 degrees' total immersion range of VRs to try out. I registered to give them all a go and had a turn on the space wheel, skeleton, air pilot and even raced other VR users in a VR Theatre race; all of which were amazing.
Connected cars, drones and robots
A surprise for me was seeing so many car manufacturers and brands at MWC, as I'd thought it would be very mobile device-focused. However, everyone from Jaguar Land Rover (partnering with Shell to exhibit its in-car fuel payment system, enabling consumers to use the in-car touchscreen to pay for gas) to Mercedes Benz were there. I tried out the Mercedes Benz, which was exhibiting its cars' use of AI to offer an intelligent in-car assistant that makes suggestions based on driver recognition and context. For example, if it's raining while you're out driving, the AI assistant can offer you diverted route advice to get you home quicker and safely.
Drones and robots were also everywhere I looked – most telecom brands had either robotic arms or, on SK Telekom's stand, a 5G AI one on show, and there were buzzing drones flying around in restrictive cages for visitors to play with.
Biometrics and voice recognition
The Mobile Money Pavilion was filled with security and analytic experts, and I spoke to UL about biometrics in banking and transaction security. The UL team told me that voice recognition, like the one that HSBC has implemented, will grow quickly over the next 12 months and will fast become a well-used tool to connect to your bank and other customer service centres, perhaps even mobile operators'. Essentially voice recognition removes the need to answer 2 or 3 security questions to prove that you're you. Instead 'your voice is your password', which is way faster and much easier.
My two coolest new gadgets
The first exciting new product that I marvelled at was Echoss' Smart Stamp, an O2O (offline to online commerce device) that validates tickets and coupons, and allows you to pay for things like coffee or a taxi, without the need to swipe or hand over cash. The Smart Stamp has stylus-like points concealed on the stamp underneath a conductive sheet which, when it makes contact with a touchscreen or other compatible app/device, registers the phone and user and essentially 'pays' for the coffee, taxi, whatever.
The second cool gadget that I came across is my personal favourite. It was a very simple GPS product from an Indian start-up named Lechal, which in English suitably translates into 'take me along', that were debuting at MWC 2017. This start-up was promoting its product, which was a small pod that you fit into your insoles that uses GPS to monitor your location and link it to an app on your phone. You tell the app where you want to go and the pod then sends vibrations to the soles of your shoes to let you know where to go, if you're heading in the wrong direction or if you need to make a sharp turn. Basically 'shoes that show you the way' – something that I definitely needed at MWC as I got lost several times.
The GLOMOs
On a more charitable note, the GSMA GLOMO award winners were announced over the course of the event and Huawei smashed the Best Mobile Technology categories with three of the six. Nokia was also named as a mobile tech standout, alongside Samsung, whose Galaxy S7 Edge won Best Smartphone of 2016. Interestingly. The GLOMOs also had an award that saw Deutsche Telekom recognised as one of five companies commended for its work in supporting Syrian refugees.
I was stunned and amazed by all of the truly revolutionary and awesome things that I saw over my three days at MWC. It really is a testament to the ingenious innovations coming out of mobile tech!