Where does your business want to be seen? Well if you work for a technology business that is B2B, I guess on business technology news sites, which are a great source of information.
Below is a list of what we think are among the most influential and must-read US tech publications that break news, cover business insights, articles, reviews, latest developments and products, and boast circulations (noted below where available) in their millions.
1. Arstechnica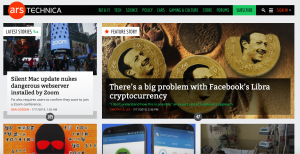 Website: https://arstechnica.com/
Ars Technica was founded in 1998 when Founder & Editor-in-Chief Ken Fisher announced his plans for starting a publication devoted to technology that would cater to what he called "alpha geeks": technologists and IT professionals. Ken's vision was to build a publication with a simple editorial mission: be "technically savvy, up-to-date, and more fun" than what was currently popular in the space. In the ensuing years, with formidable contributions by a unique editorial staff, Ars Technica became a trusted source for technology news, tech policy analysis, breakdowns of the latest scientific advancements, gadget reviews, software, hardware, and nearly everything else found in between layers of silicon. Circulation: 29 million.
2. TechRepublic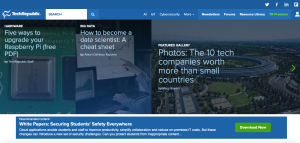 Website: https://www.techrepublic.com/
TechRepublic helps "IT decision-makers identify technologies and strategies to empower workers and streamline business processes. The site delivers a unique blend of original content by IT professionals, peer-to-peer advice from the largest community of IT leaders on the Web, and a vast library of professional resources from the leading vendors in the IT industry. TechRepublic features blogs, community forums, vendor white papers, software downloads, Webcasts, and research." Circulation: 11 million.
3. Vice Motherboard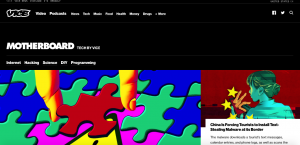 Website: https://www.vice.com/en_us/section/tech
Coming to you from around the world, VICE Digital's team strives to capture the people at the heart of stories, and focus on the ideas, issues, and context that other outlets miss.
4. TechCrunch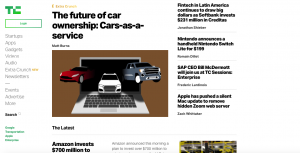 Website: https://techcrunch.com/
TechCrunch is an online publisher focusing on the tech industry. The company specifically reports on the business related to tech, technology news, analysis of emerging trends in tech, and profiling of new tech businesses and products. It was one of the earliest publications to report extensively on tech startups and funding. Circulation: 23 million.
5. Wired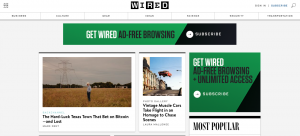 Website: https://www.wired.com/
It is an essential source of information and ideas that make sense of a world in constant transformation. The WIRED conversation illuminates how technology is changing every aspect of our lives—from culture to business, science to design. The breakthroughs and innovations that we uncover lead to new ways of thinking, new connections, and new industries. WIRED reaches more than 30 million people each month through WIRED.com, our digital edition, the magazine, social media, and live events. Circulation: 30 million.
6. The Next Web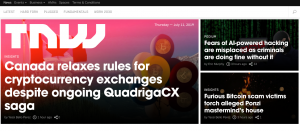 Website: https://thenextweb.com/
In 2006, founders Boris and Patrick were looking for a tech event to showcase their new startup. When they couldn't find one that checked all the boxes they decided to host their own. As they were organizing things, they soon realized they needed somewhere to promote the conference, and that's how thenextweb.com was launched. It later became a blog and the result is what you are looking at right now. Circulation: 6 million.
7. VentureBeat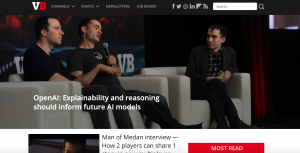 Website: https://venturebeat.com/
Founded in 2006, VentureBeat is the leading source for news and events that provide deep context to help developers, enthusiasts, and business leaders make smart decisions. We explain the latest tech and gaming trends with an eye on what is transforming people's lives. Circulation: 7 million.
8. Information Week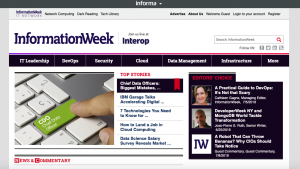 Website: https://www.informationweek.com/
InformationWeek defines the value of technology in the age of digital business. As the world's "most trusted business technology" resource, InformationWeek offers independent insight and advice to help today's IT leaders navigate the fast-changing technology landscape and identify the best strategies and tools to drive their organizations forward. Circulation: 300,000.
9. ZDNet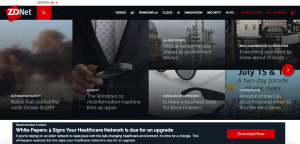 Website: https://www.zdnet.com/
ZDNet brings together the reach of global and the depth of local, delivering 24/7 news coverage and analysis on the trends, technologies and opportunities that matter to IT professionals and decision makers. Circulation: 16 million.
10. Cnet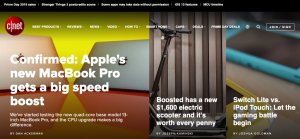 Website: https://www.cnet.com/
CNET tells you what's new in tech, culture and science, why it matters, how it works and what you need.
Our global team works 24/7 to explore and explain the changing the world around us. You can depend on CNET for news, commentary, analysis, features, FAQs, advice, hands-on reviews, buying guides, amazing photography and fun and informative videos. Circulation: 130 million.
If you want to see your company or product name in technology publications, please get in touch and we'll see how we can help you.